Ever wondered what's the greatest guitar riff of all time? Well, Ranieri Agency did just that after receiving a  brief from client Ultimate Guitar to create awareness for the brand outside of its current niche audience.  
The UK was experiencing a particularly gloomy and heavy news cycle; Russia had just invaded Ukraine, Climate Change was top of mind and with the two-year anniversary of Covid fast approaching, the effects of the pandemic on our mental health was a hot topic. Even celebrity stories were intense with the death of Shane Warne, Bruce Willis' Aphasia diagnosis and golden boy, Will Smith, being sent back to live with his aunt and uncle in Bel Air for that Oscars' slap! 
After taking the temperature amongst press contacts, Ranieri Agency knew there was an appetite for a feel-good story that could resonate with a significant amount of the population and generate significant coverage for the client.  
The agency commissioned a research study to understand the everyday importance of music in our lives, as well as delving into people's attitudes towards classic riffs.  The findings were sold into national press and broadcast media who all jumped on the story.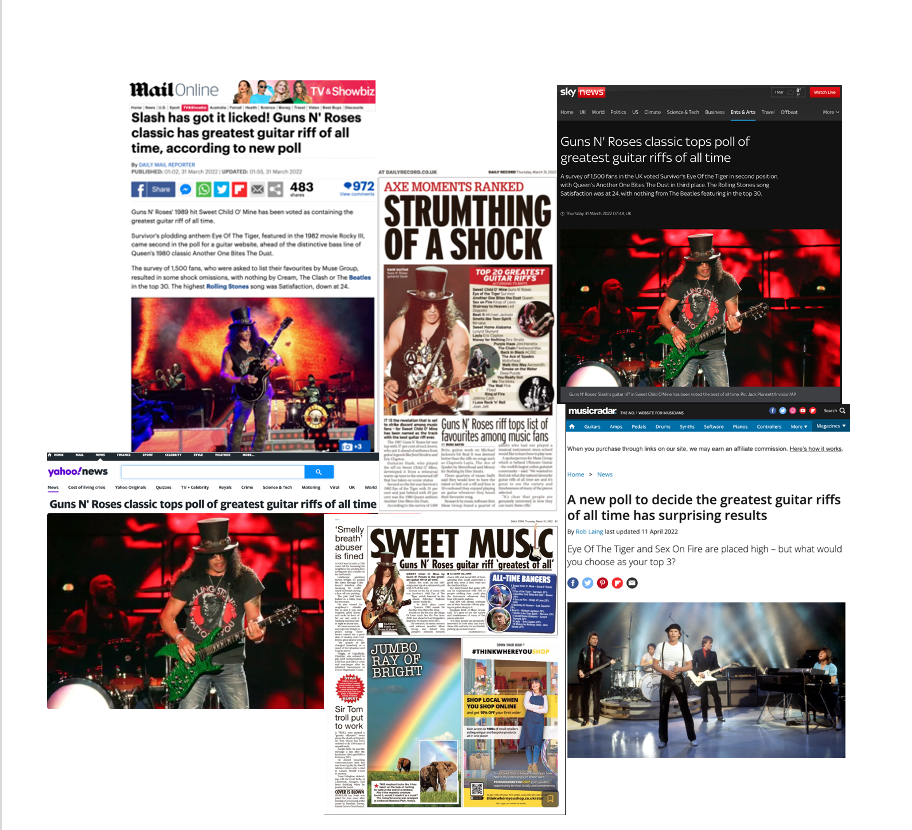 The story was picked up by all key Tier 1 UK nationals targets, such as the Daily Mail & Mail Online, The Sun, Daily Mirror, Daily Star, Yahoo and Sky News, and featured in key tier 1 music publications, including Music Radar, Guitar.com and Guitar World. 
Nationals such as Daily Mail & Daily Star also created graphic tables for the riff rankings that stood out further on the pages. 
The story stood out in prime position next to major world news stories within the first 5 pages, including: 
Daily Mirror (CIRC: 333,731): Included on page 3 and dedicated a quarter page for the piece. 

 

Daily Mail (CIRC: 909,201): Included on page 11, the same page as the breaking news story of Bruce Willis taking a step back from acting due to Aphasia. 

 

The Sun (CIRC: 1,210,915): Included on page 12, the same page as the double page spread on the Shane Warne memorial.

 

Muse Group/Ultimate Guitar spokesperson profile was raised with interviewed across

10 radio stations, including Deveron FM, BFBS, Boom Radio, BBC Radio Sheffield and more, contributing to over 4 million opportunities to listen. 

 

Muse Group's SEO increased significantly, forcing old & undesirable articles further down the search feed and the newer, more relevant articles to the top. 

 
 #PR #PRcampaign #researchstudy